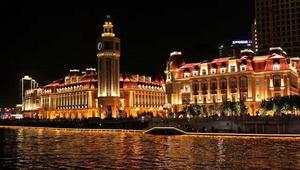 Italian Bar Street is a tourist bar street with Italian style in Tianjin city. It was formerly known as the only concession outside of Italy, and now is a unique large Italian-style Buildings in Asia.

It covers the area from Coast area to the Victory Road. Across the river from Italian Town lies the Ancient Culture Street, Tianjin Financial Road, Peace Shopping and Pedestrian Street, Tianjin Municipal Government and Little White CBD. Owning the unique location, the Style Street is merged with different cultures. Here you can find the many former residences of celebrities', chic bars, western art deco, international restaurants, etc. Among those buildings, the most famous are First Worker Cultural Palace, Residence of Feng Guozhang, former residence of Liang Qichao's Yinbin, Residence of Hua Shikui, Residence of Cao Yu and Italian Military Camp. Although the Italian Town is named after a street, actually it is a small town.
Italian Style Street was built in 1902. On June 7, 1902, Mr. Tong Zhaoyi with Tianjin Customs and a new Italian Minister signed the "Articles ofTianjin Italian National Concession Contract", scoped Italian Concessionarea in Tianjin. The location was between Tianjin Russia Concession and Tianjin Australia Concession, south to Haihe River, north to Tsuyama Rail, and across Tianjin French Concession and Tianjin Japanese Concession by the river. Sincethen on, the construction of drainage systems, Italian-style property andrelevant services and facilities, including clubs, gardens, markets and the police stations started or was improved. In 1946, the Italian concession in Tianjin was resumed the local government.

In 2002, the Tianjin Municipal Government and the Tianjin Haihe Construction Development Co., Ltd. made protective development to the original concession area, named "Italian Style Street". The renovation of this street was completed in 2005 and opened to the public in 2008. It now has become adistinctive and attractive spot in this city. In 2013, Italian Style Street was listed as a national 4A -class tourist scenic spot.