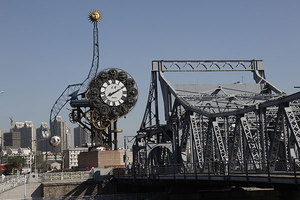 The Tianjin Jie Fang Bridge (Liberation Bridge) was built in 1902 and was rebuilt in 1927 due to demand. The bridge was originally known as the "Bridge of Nations", which means the meaning of the international bridge. After the victory of the Anti-Japanese War, the National Government named the bridge after Chiang Kai-shek and changed the"Bridge of Nations" to "Zhongzheng Bridge". In 1949, after the liberation of Tianjin, the bridge was officially renamed "Liberation Bridge" and has been used to this day.
Because at that time Tianjin has English, France, Russia, the United States, Germany, Japan, Italy, Austria, than 9 countries concessions, and this bridge is located at the entrance of the French concession, but also by the French Concession Shimia Bureau presided over the construction, so the people of Tianjin at that time more willing to call it "French bridge." Today, in the bridge head position, people can see the "liberation bridge" three large words of stone, the side of a "Bridge of Nations" small stone brick.
Tianjin Liberation Bridge, one of Tianjin's iconic buildings, an important hub bridge in the Tianjin Station area. It formerly known as the Universal Bridge, here not only has the PLA with a company of troops, only more than 20 minutes to conquer the bridge's good words, but also staged some people under the bridge to find short-sighted human tragedy.
Liberation Bridge is an all-steel structure can open the bridge, the bridge length of 97.64 meters, the bridge surface width of 19.50 meters, the bridge identity of 3 holes, the middle hole can be opened. The live leaf truss moves along the track when the bridge is opened in order to allow for greater navigable clearance.