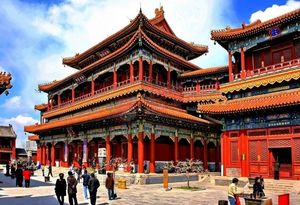 The Lama Temple is located in the northeast of Beijing's old town. The Lama Temple originally built in1694 by Qing Emperor Kangxi (1662-1722) for his fourth son, Prince Yongzhengwho later succeeded him to the throne. After the death of his father, EmperorYongzheng (1723-1735) moved to the Forbidden City. The temple found subsequentuse for visiting Tibetan and Mongolian Lamas, and thus became a Lamasery andadministrative centre under the Geluk (or Yellow Hat) school of TibetanBuddhism.
The Lama Temple also known as the "YongheLamasery", is one of the largest and most important Tibetan Buddhist monasteries in the world, an is a protected monument under Chinese law. Thetemple mixes features of Han Chinese and Tibetan architecture.
With the length near to 400 meters south-to-north, Lama Temple occupies an area of around 66,000 square meters. The magnificent temple consists of five main buildings lying on the north-south axis. Along the axis, there are five main halls which are separated by courtyards: the Hall of the Heavenly Kings, the Hall of Harmony and Peace, theHall of Everlasting Protection, the Hall of the Wheel of the Law, and thePavilion of Ten Thousand Happinesses.
A note worthy feature of the temple is theFive Hundred Arhat Hill sculpture in the Hall of the Wheel of the Law. The fivehundred Arhats (a type of Buddhist saint) are made of five different metals(gold, silver, copper, iron, and tin) and are scatterred around the oftenbizarre looking hill carved from red sandalwood. Another attraction in thetemple is a carving of a standing Maitreya Buddha, carved from a single pieceof white sandal wood. The statue of Five Hundred Arhat Hill and the Maitreya Buddha are two of three artworks in the temple which were included in the Guinness Book of Records in 1993.
Tours with Lama Temple included:
Beijing Four Days Package Tour with Tianjin Cruise Port transfers
Beijing Tianjin Five Days Package Tour with Tianjin Cruise Port transfers