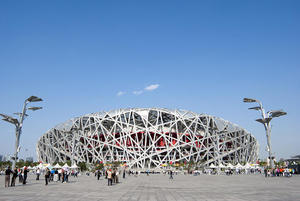 The National Stadium, also known as the "Bird's Nest" due to its iconic design was the key competition venue of theBeijing 2008 Olympic Games and the 13th Paralympic Games. The opening andclosing ceremonies of the two Games have taken place here, together with thefootball, and track and field competitions. The stadium, designed by Swissarchitects Herzog & de Meuron with artistic input from Ai Weiwei, is the world's largest steel structure. The design is influenced by traditionalChinese ceramics, while the colloquial name Bird's Nest can be used to refer toa nest for wth world's hopes, as well as sharing the name with an expensive Chinese speciality! It was the iconic structure of the Beijing Olympic Games and has since become a recognized landmark worldwide, attracting thousands of visitors.
To earthquake-proof the stadium, the bowland roof were split into two separate elements and the bowl split into eightzones, each with its own stability system and effectively its own building.
The National Stadium is divided into 12sectors (A-H, J-M), and has 12 ticket checks around the periphery, marked AB,BC, CD, DE, EF, FG, GH, HJ, JK, KL, LM, MA. "Tier" is divided into upper (3),middle (2) and lower (1).

The National Aquatics Center, also known as "The Water Cube is one of the dramatic and amazing venues to host Beijing Olympics in 2008.
The outer membrane of the Water Cube ismanufactured using ETFE (Ethylene Tetrafluoroethylene) air cushions. This isthe first building of is kind in China and it is also an economical andwater-saving creation. The blue-colored material is much lighter than conventional glazing structures though has the same lighting effect. The building managed to make savings on the overall cost of construction as a jointventure managed to produce the material at a much cheaper cost than theoriginal German producer's costs. The structural design is based on the natural formation of soap bubbles which give a random, organic appearance and helpingto link the structure to its aquatic function.
The swimming pool is deeper than most Olympic swimming pools, allowing swimming at faster speeds, while the guttersto the side of the pool disperse wave energy. A consequence of this was the breaking of 25 world records during the 2008 Olympics.
Tours with Olympic park included:
Beijing Three Days Package Tour with Tianjin Cruise Port transfers
Beijing Four Days Package Tour with Tianjin Cruise Port transfers
Beijing Tianjin Five Days Package Tour with Tianjin Cruise Port transfers