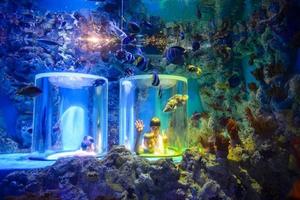 Tianjin Polar Sea World is a theme park built by Dalian Haichang Group in Tianjin. Tianjin Polar Sea World is a large-scale open tourism project with ocean park as the theme. The project is located in Tianjin Binhai New Area, the Ringlu Bay tourism plate, Binhai New Area Haihe Bund South Bank, West sea gate bridge, east of the welcome road. Tianjin Polar Sea World consists of 8 tourist areas (i.e., polar animal exhibition area, under seatunnel exhibition area, beluga whale exhibition area, whale shark exhibition area, coral exhibition area, jellyfish exhibition area, children's interactive area and ocean joy theater).
Haichang tourism humanities, nature, harmony is the cultural concept advocated by Haichang Tourism, Haichang Tourismhas now opened the project by Dalian Tiger Beach Polar Marine Animal Museum, Dalian Discovery Kingdom theme park, Qingdao Polar Ocean World, Dalian TigerBeach four-dimensional cinema, Chongqing Caribbean Water World, the upcomingopening of the project s: Dalian Tiger Beach Fisherman's Wharf, Dalian Red Flag Valley Country Club, Yantai Fisherman's Wharf.
It loved by children very much since they have performance, interactions, animal dolls shops. And also you can take customized photos at cut out panel in each house. So Polar Sea World is best fit for a family with chilren.