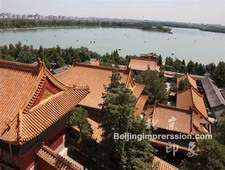 The Summer Palace has a history of over 800 years. In 115, when the Jin Dynasty made Beijing (then calledYanjing) its capital, it built an imperial palace (the Golden Hill Palace) onthe present site of the Summer Palace, In 1750, Emperor Qianlong spent 4.48 million taels of silver (140,000 kilos of silver) building the Garden of Clear Ripples in 15 years and changed the name of the hill to Longevity Hill to celebrate his mother' s birthday. He also named the lake Kunming because he wanted to follow the example of Emperor Wudi (156BC-87BC; reign 140BC-87BC) of the Han Dynasty (206BC-AD220) who had trained his navy centuries before in Kunming Pool in Chang an (near present day Xian). The Summer Palace was ravaged by the Allied Forces of the Eight Powers that invaded China in 1900. The damage was repaired in 1902. The Summer Palace became the residence of the Dowager Empress Cixi who spent a great deal of money expanding and beautifying the area, supposedly using funds allocated for the modernisation of the Chinese Navy.
Since the founding of the People's Republicof China in 1949, the Summer Palace has been renovated several times. One ofthe two dominating features of the Summer Palace is Longevity Hill, the frontof which contains the main rooms of the palace. The second feature of the palaceis Kunming Lake, a man-made pool covering over 2.2 square kilometers who seexcavated soil was used for the creation of Longevity Hill. The Summer Palace covers an area of 2.9 square kilometers, three quarters of which is Kunming Lake. It is well known for its large and priceless collection of culturalrelics. The major attractions including the Pavilion of Bright Scenery, theFour Great Regions, the Hall of Serenity, Suzhou Street, the Wenchang Galleriesand the Plowing and Weaving Scenery Area have been successively restored sincethe 1950's.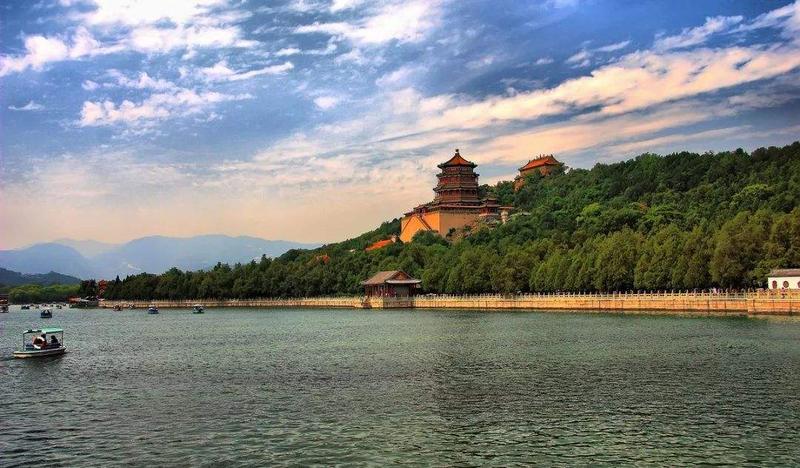 The Summer Palace is a monument to classical Chinese architecture, in terms of both garden design andconstruction. In December 1998, it was inscribed on the World Heritage List byUNESCO, which commented as follows:
1) The Summer Palace in Beijing is an outstanding expression of the creative art of Chinese landscape garden design,incorporating the works of human kind and nature in a harmonious whole;
2) The Summer Palace epitomizes the philosophy and practice of Chinese garden design, which played a key role in the development of this cultural form throughout the east;

3) The imperial Chinese garden, illustrated by the Summer Palace, is a potentsymbol of one of the major world civilizations.
At present, the Summer Palace has become one of the top famous tourist attractions in Beijing and China.
Tours with Summer Palace included:
Beijing Three Days Package Tour with Tianjin Cruise Port transfers
Beijing Four Days Package Tour with Tianjin Cruise Port transfers
Beijing Tianjin Five Days Package Tour with Tianjin Cruise Port transfers