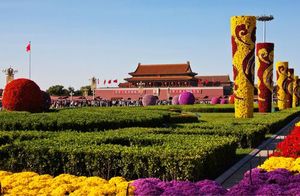 Tiananmen Square, also known as Tian'an Men Square can be translated to mean the Square of The Gate of Heavenly Peace. It is situated in the centre of Beijing City. It is the original gate of the Imperial Palace (more commonly known as the Forbidden City). Thousands of people come to the Square everyday. The square has borne witness to a great deal of modern history, from the demonstrations by students of the May 4th Movement against foreign powers in 1919 to the recent parades in 2009 marking the 60 thanniversary of The People's Republic of China. It is the globally recognised location of where Chairman Mao Zedong declared the establishment of the People's Republic of China on October 1, 1949. It is the largest city square in the world, encompassing 44 hectares (108.7acres). It is 880 metres from north to south and 500 metres from east to west, big enough to hold over half a million people! Within Tiananmen Square tourists can also visit Tiananmen Tower, Monument to the People's Heroes and the Chairman Mao's Memorial Hall. It is also possible to see the national flag raising ceremony. Tiananmen Tower is at the north end of the square and was the front door of the Forbidden City. Until 1911, only the royal family and aristocrats could enter the Tower. The Monumentto the People's Heroes commemorates the martyrs who devoted their lives to the Chinese people. It was completed in 1958, consists of more than 10,000 tons ofstone and is the biggest monument in Chinese history, reaching nearly 40 metres. The Chairman Mao's Tomb or Mao Zedong Memorial Hall was built in 1977. Mao Zedong was the first chairman of The People's Republic of China and isgreatly admired by the Chinese. His remains are laid in a crystal coffin in the main hall. There is also a north and south hall.
To the west of Tiananmen Square is the Great Hall of the People, the National People's Congress and other arms of the Chinese government. To the east lies the Chinese National Museum. Tiananmen Square is now one of the entrances for tourists visiting the Forbidden Citywhich is at the north, as is Tiananmen Gate.
Tiananmen Square and its surroundings are amust-see for people visiting China. Aside from the beautiful structures, breathtaking monuments and flowers, there is a lot to learn about the historyof one of the oldest cultures in the world.
Tours with Forbidden city included:
Beijing hightlight city tour with Tianjin cruise port transfers
Beijing two days package tour with Tianjin Cruise Port transfers
Beijing Three Days Package Tour with Tianjin Cruise Port transfers
Beijing Four Days Package Tour with Tianjin Cruise Port transfers
Beijing Tianjin Five Days Package Tour with Tianjin Cruise Port transfers‍