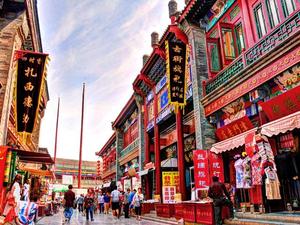 Tianjin Old Culture Street, located in Tianjin Nankai District, thenortheast corner of the east gate, the west bank of the Haihe River, is acommercial pedestrian street, the national AAAAA-class tourist attractions. Asone of the ten scenes of Jinmen, Tianjin Ancient Culture Street has alwaysadhered to the "Chinese flavor, Tianjin flavor, cultural taste, ancienttaste" business characteristics, mainly operating cultural supplies.
There are nearly a hundred shops in ancient culture street. Tianjin old-style shop folk handicrafts shop concentrated, there are authentic cuisine: dogs ignore buns, ear-eye cakes, pancake fruit,old sugar, Zhangjia shui shop, Tianjin mahogany and so on. Tourist attractions include Tiangong Palace, "Kite Wei" kite, mud man Zhang Color Plasticand so on.
Ancient Culture Street is a street composedof small folk shops that imitate the Qing Dynasty of China. With the Yuan Dynasty monument Shimigi, the ancient culture street is located in Tianjin Nankai District, the northeast gate, the west bank of the Haihe River, north tothe northeast corner, located in the downtown area, from the old Tieqiao Street(MiyabeI Street), east of the Haihe River, south to Shuige Street (MiyananStreet). North and South Street each have a brand square, on the book"Zinmen" and "Yu Shang Art Garden", the palace is commonly known as "Mother's Palace", is the main tourist attractions in theancient cultural street. This street has a famous ancient temple for hundreds of years, it was originally known as the "Tianfei Palace", later renamed "Tiantian Palace." Tianjin east of the Bohai Sea, back to the capital, since ancient times is the collection of boats and land transport hub.The Temple of the Days is the temple of the God of the Sea, which was established for the protection of the Emperor's Movement under the circumstances of the great development of the Great Movement.
It opened on New Year's Day 1986. Since ancient times, this area is Tianjin's largest market trade and annual goods market, every spring, Tianjin's grand imperial meeting - the mother's birthday is held here, when the performance of stilts, dragon lights, dry boats, liondance and so on. In addition to the new ancient culture street, in addition to the two ends of the brand building and the palace foreplay building for the imitation of large-scale buildings, the remaining nearly 100 houses are imitation of the small folk-style ancient buildings.
Stroll ingress through the ancient culture street and, as you enter and leave the shops, you will see many shops under the facades and between the su-houses with a very Jiangnan garden-making style ofSu painting. The composition is vivid and vivid, the form is realistic, making the ancient cultural street gorgeous, charming style.
Tour with Old Culture Street included:
Beijing Tianjin Five Days Package Tour with Tianjin Cruise Port transfer